Kathryn Bernardo and Daniel Padilla are the most lovely and cutest couple of Philippine. The nickname of this off-screen love team is KathNiel and has officially revealed in one interview that they are in a relationship from the last few years.
This statement might be surprising for some people, but the huge fan following of these two actors already got the signs from the couple in several events.
So, before moving to 20 things to know about this couple (which many of you might be aware of), let's have some brief about them, like how they started their careers.
Kathryn Bernardo
Kathryn Bernardo is a Filipina actress whose full name is Kathryn Chandria Manuel Bernardo and was born on March 26, 1996. She gained stardom for her role in TV series 'Mara Clara' where she played as Mara. She has also starred in various TV series, such as 'Got to Believe', 'La Luna Sangre' and 'Princess and I'.
Kathryn is also best known for her roles in various films, such as 'Way Back Home', 'Crazy Beautiful You', 'Can't Help Falling in Love', and 'Three Words to Forever'.
In addition to her success in the acting field, she became the first and only Filipina actress who reached more than 800 million-grossing for two movies – 'The Hows of Us' in 2018 and 'Hello, Love, Goodbye' in 2019.
Daniel Padilla
Daniel Padilla is a Filipino actor and recording artist who was born on April 26, 1995. He started his television career as a supporting role in TV series 'Gimik 2010' and got the leading role in another TV series 'Growing Up'.
He made his film debut in 2012 and has starred in various films awarded as the highest-grossing Filipino films; these include 'She's Dating the Gangster', Crazy Beautiful You', 'Can't Help Falling in Love'
Apart from Daniel's acting career, he has a great interest in music and his released albums are 'Daniel Padilla' in 2012, 'DJP' in 2013, 'I Heart You' in 2014.
20 Things You Love About Kathryn Bernardo and Daniel Padilla
1. Kathryn has been labeled as Philippine's 'Teen Queen', while Daniel has labeled as Philippine's 'Teen King'.
2. Kathryn's favorite color is Yellow, while Daniel loves the outfits in Black, White, and Gray.
3. As per Kathryn's sister, she is very impatient, but a lovely friend, daughter, and sister.
4. Kathryn Bernardo was the first actress to hold the prestigious award, 'Yahoo! Philippines OMG! Awards 2011' for her wonderful work as the young actress.
5. Kathryn is not fond of soft drinks. One thing that may surprise many of you is that, despite an endorser of Coca-Cola, she has a record of never finishing even a single Coke-in-can.
6. Both Kathryn and Daniel have worked together in various TV series, including 'Princess and I', 'Got To Believe', and 'Pangako Sa 'Yo'.
7. They have also been starred together in various films, including 'She's Dating the Gangster', 'Crazy Beautiful You', 'Barcelona: A Love Untold', and 'Can't Help Falling in Love'.
8. They were first paired together in one youth-oriented show, named as 'Growing Up', in which Kathryn played as a teenage volleyball player and Daniel starred as her teammate.
9. In 2013, they both played the first lead roles together in the movie 'Must Be… Love'. This movie is marked as the first step in the career of KathNiel.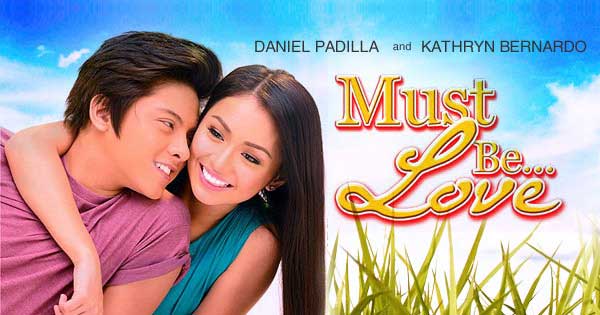 10. In 2014, they were starred in another movie 'She's Dating The Gangster', which was a great success and earned a huge profit. After this, there were seen together in a series of movies and become famous as the Box Office King and Queen.
11. The adorable pet name of Kathryn given by Daniel is 'Bal'. In 2016, a photo was posted by Daniel's mother on the occasion of Kathryn's 20th birthday, in which he was seen with the words 'Happy Birthday Bal' written on the sand.
12. The first kissing scene of KathNiel can be seen in the movie 'Barcelona A Love Untold' (2016). Though KathNiel had several kissing scenes in their projects, every time the different angles of the camera were used to unclear their faces. But, their real kiss was seen on the screen in 2016.
13. Kathryn and Daniel have done almost 7 movies together and now heading towards their career separately. They are happy with their decision and appreciate each other's freedom.
14. In 2015, they also bagged the 'Face of the Year Favorite Foreign TV Actress and Actor Award' for their incredible roles in the drama series 'Got to Believe' (2013).
15. Another success to their career as the KathNiel is 'Hows of Us'. Kathryn was awarded the 'Phenomenal Box Office Queen' award for their movie and also broke several records at the 50th Guillermo Mendoza Box Office Awards and received multiple awards.
16. Kathryn has also recorded her first solo 'Mula Noon Hanggang Ngayon' for one of her TV series 'Princess and I' in 2012, while in 2013 she has recorded a cover of 'Got to Believe in Magic' with her real-life partner Daniel.
[the_ad_placement id="in-content"] 
17. Kathryn started her venture into music with Daniel and recorded various songs that were released under the album titled Kathryn. In addition, KathNiel duet's song has been used for ABS-CBN's Summer Station.
18. Daniel Padilla has bagged multiple awards, including 26th Awit Awards for Best Selling Album of the Year, Myx Music Awards 2013 for Favorite New Artist, etc. In addition, he has become the first Pinoy artist who has won Kids' Choice Awards for Global Slime Star.
19. Both also won big awards at the 'Blue Star Awards' held in Vietnam 2017 as the Face of the Year Award.
20. Again in 2018, they were lucky to be announced as the 'Face of the Year Favorite Foreign TV Actress and Actor Award' at the Blue Star Awards.
This trip to the memory lane of the on-screen and off-screen loveteam KathNiel will make their massive fan base miss them more for sure.