Most people know that the bride waits for her wedding day since she is a little kid. She looks at magazines with pretty setups and fascinating gowns in movies, hoping to make the most of her wedding day as well. What most people don't realize is that the bride's mother is equally excited and anxious to see her daughter walk down the aisle into a new world.
With the cameras flashing and the gathering full of friends and family, every person in the procession has to look their best and put their best foot forward. This is the reason why it is important to choose the mother of the bride plus size dresses from the best of the lot. This requires a lot of thought and time to be put into it. But planning a wedding can be hectic and there is so much to do.
Best Plus Size Mother of the Bride Dresses
Here is the list of the best plus size mother of the bride dresses!
Fit and Flare
Peplums and Separators
Off the Shoulder
Embellishments
Colour Blocking
Vertical Lines
Empire Waist
Mesh Slits
Backless Bonanza
Beaded Kaftan
Flutter Sleeves
Mermaid Gown
Fit and Flare
This is a very sophisticated and versatile silhouette that can be adjusted to suit different body types. This makes it a great dress for the mother of the bride plus size dresses. This accentuates your waistline when teamed with a belted look or you can also try a dropped torso if you are slightly short-waisted. Most importantly, make sure that the dress still allows for plenty of movement so you can move around and enjoy your night.
Peplums and Separators
Instead of sticking to the traditional sash, you can try on a peplum top, which has a more fresh and modern feel. This style is great for elongating the torso and making you look leaner. This makes peplum dresses a great choice of plus size mother of bride dresses.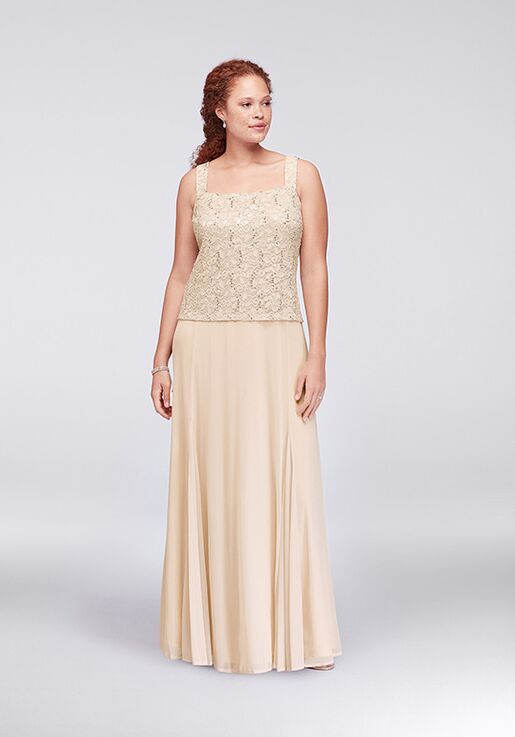 For a daytime wedding, skirts to the knee or the ankle are appropriate, whereas if you're having an evening affair, she may want to opt for a long gown. For women who are different sizes at the top and bottom, it is a great idea to get separators.
Off-the-Shoulder
If you're a mom that loves glamorous looks, consider outfitting in an off-the-shoulder dress. This neckline shows off your collarbone and shoulders making you look elegant, and she can easily accessorize it with her favorite jewels. Try a three-quarter length sleeve or one that hits slightly above the elbow to avoid showing too much skin and making the dress look appropriate for plus size mother of the bride dresses.
Embellishments
You shouldn't be afraid to go bold with beading and embellishments. Accents are there to accentuate and make you look slimmer and feel like you have a toned body. Lace inlays draw the eye to her favorite qualities whereas draping and ruching help smooth everything out. These make sure that you can draw attention to the parts of your body that you want to accentuate. This makes this a nice way to choose out of the plus size mother of the bride dresses.
Colour Blocking
Plus Size Dresses with a dark, contrasting color on the sides create the illusion of a slimmer midsection. Conversely, if you have a pear shape, you might want to try a lighter color on top, rather than on the skirt. Using color-blocking is an effective way to give your look the hourglass shape that everyone wants to achieve. This is a great way to choose out of plus size mother of the bride dresses.
Vertical Lines
Horizontal lines tend to make women look a little bit wider and chubbier, whereas vertical stripes you lengthen a torso making you look leaner. Steer clear of horizontal drop-waist styles that cut off at your widest point. You can combine this pattern with other embellishments such as far to add an extra oomph factor.
Empire Waist
An empire bodice cuts right underneath the bust, slightly above the waist, which emphasizes on your assets and helps to camouflage the fat that has accumulated around the tummy. This look is perfect for a beach or garden wedding, especially when paired with a nice statement necklace.
This is a great option for plus size mother of the bride dresses as it allows room for movement while complementing your figure in the best possible manner.
Mesh Slits
Looking for a curve-hugging dress that flatters in all the right places? Look no further! Dresses that have a mesh overlay and flaunt a high cut on it, helps emphasize all the right places. Most dresses boast of well-placed ruching and an asymmetric neckline to give it some edge. This will make you stand out in the procession and give you the best photographic look. This is one of the best ideas for mother of bride plus size dresses.
Backless Bonanza
It is a great way to add some oomph to your look. A beautiful and elegant open back is the perfect match for a modest neckline. Balance how much skin you want to show by choosing a simple neckline for a backless dress. Accentuate your back by wearing your hair up and have fun with a pair of statement earrings. If you are uncomfortable showing skin and feel uncomfortable having a bareback, you can wear a dress that has a lace overlay or mesh coverup that allows you to wear such dresses with confidence and make for a glamourous choice
Beaded Kaftan
If you are looking for plus size mother of the bride dresses then you should consider a beaded kaftan. This is a long gown sort of dress that hangs loosely on below your bust and hides the fact that you would want to draw attention away from. You can have several variations in this style. You can have loose bell-shaped sleeves or opt for a single shouldered dress that lets you add a bit of glamour to your look.
Flutter Sleeves
For women who want to ensure that they address their flabby arms while looking for plus size mother of the bride dresses, consider wearing a long dress with flutter sleeves. This will create an illusion of a thinner frame while adding a fun detail to your look. This will help you feel youthful in the most elegant manner possible.
Mermaid Gown
Use a small belt below your bust to define your figure and make the most of this look. This dress will give you a royal feeling and is a suitable option for plus size mother of the bride dresses. For the most flattering effect make sure that you wear. If you wear a mermaid dress with a lace overlay, it will create an illusion to elongate your body and you look taller and slimmer.
Conclusion
These dress ideas will help you dive into the beautiful world of plus size mother of the bride dresses and make you feel more confident when you decide to go look for your dress. These tips will help you figure out the kind of dress you want so that your search is filtered and quick. Make sure you look not only presentable but also stand out at your daughter's wedding.